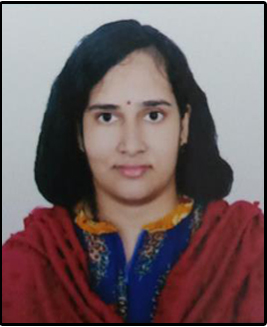 Dr Preeti Uday Deshpande
Assistant Professor of Microbiology
Email: preeti1988@gmail.com
Current Academic Role & Responsibilities
Teaching undergraduate students belonging to MBBS, BDS and Nursing courses
Conducting practical classes for MBBS and BDS undergraduate students
Guiding undergraduate students (MBBS) in their research projects
Involved in Diagnostic and research activities of the department
Areas of Research & Expertise
Medical Microbiology including Bacteriology, Immunology, Mycology, Virology, Parasitology and Molecular Biology
Hospital Infection control
Biomedical waste Management
Awards & Achievements
Awarded Third prize in the postgraduate quiz at the Teaching Pathologists and Microbiologists Conference (7th March, 2015) hosted by Seth G.S. Medical College & K.E.M. Hospital, Mumbai.
Completed the Internal Auditor & Quality management Systems Certificate course (Foundation for Quality, India) as per ISO 15189- 2012 from 30th March to 2nd April, 2016 at Seth G.S. Medical College & K.E.M. Hospital, Mumbai.
Completed the 13th Infectious Disease Certificate Course from 19th September to 24th September, 2016 at P.D. Hinduja Hospital & Medical Research Centre, Mumbai.
Completed the Basic course in Biomedical research (SWAYAM-NPTEL) in March-June 2020 session with a consolidated score of 94%.
Underwent training for Online Curriculum Implementation Support Programme (CISP-II) on 17th & 18th July 2020 organized by MCI Regional Centre for Medical Education Technology, Gandhi Medical College, Secunderabad at Medical education unit, Mamata Medical College, Khammam.
Completed the Certificate Program on Hospital Infection Control from September- October 2020 organized by the Sankara Nethralaya Academy, Chennai.
Attended Revised course basic workshop and training in Attitude, Ethics and communication (AETCOM) at Mamata Medical College and Hospital, Khammam from 26th to 28th October 2021.
Awarded Second prize in the Quiz competition at the 14th Annual Workshop on Basic and Molecular Diagnostics in Mycology- Virtual workshop (30th March to 2nd April 2022) at Sri Ramachandra Institute of Higher education and Research.
Professional Affiliations
Member of the Hospital Infection Society-Mumbai forum (2015)
Currently registered in the Telangana State Medical Council (TSMC)
Publications
International journal:
Deshpande PU, Mehta PR, Kerkar SC et al. Prevalence of HPV infection in women at a tertiary care hospital in Mumbai. Int J Res Rev. 2016; 3(6):68-75.
National journal:
Medhe AS, Mandale SS, Deshpande PU, Bhavthankar JD. Bilateral submandibular swelling diagnosed as tuberculous lymphadenitis in an asymptomatic patient: A rare case report. Indian J Pathol Microbiol. 2018 Oct-Dec;61(4):570-572.