Laboratory Services at Mamata General Hospital functions 24 X 7 and is supported by very well-equipped, modern labs for Clinical Pathology, Haematology, Biochemistry and Microbiology. The Diagnostic Laboratory in the hospital is a well equipped laboratory capable of providing a complete range of investigations. All the investigations in the Mamata General Hospital are done free of cost.
Microbiology The Department of Microbiology is headed by Dr. B. Anuradha MD (Microbiology) who is also Head of the Medical Education Unit. The Microbiology lab is well equipped and offers diagnostic services in Bacteriology, Virology, Mycology, Parasitology, and Serology. The department is also an active participant of the Revised National Tuberculosis Control Program (RNTCP) and also has Integrated Counseling and Testing Centre (ICTC) for HIV conducted by the Government of India.
Biochemistry The biochemistry laboratory is headed by Dr.P. Madhulatha, MD (Biochemistry). The Clinical Biochemistry lab is equipped with modern equipment to enable clinical biochemistry, special proteins and hormones.
Internal and external quality assurance programmes will be done on regular basis.
Pathology The Pathology laboratory is headed by Dr.Y. Sushma, MD (Pathology). The department comprises of Histopathology, Clinical Pathology, Cytology and blood bank. The department is equipped with automated cell counters, coagulation analyzer, ESR analyzer etc., There are regular post graduate academic activities on practical aspects and recent advances.
Quality Control Programmes The Central Laboratory departments of Mamata Medical College & Hospital, has participated in The External Quality Assurance Survey Programs.
Microbiology: EQUAS The attainment of quality service, Department of Microbiology participates a comprehensive Quality Assurance Program which includes both Internal and External quality control. The external quality control is done by Microbiology EQAS in collaboration with Indian Association of Medical Microbiologists (IAMM) is conducted by the Department of Microbiology, Christian Medical College, Vellore for south zone. This quality program provides Tier I EQAS panel, for Bacteriology and serology. The evaluations are performed in CMC Vellore Microbiology department .Reports and the individual evaluations of our results are received along with the overall performance summary including learning points within a month from final deadline. The Tier I EQAS programme offers 3 cycles in a year every year. Participation certificate is awarded at the end of the year.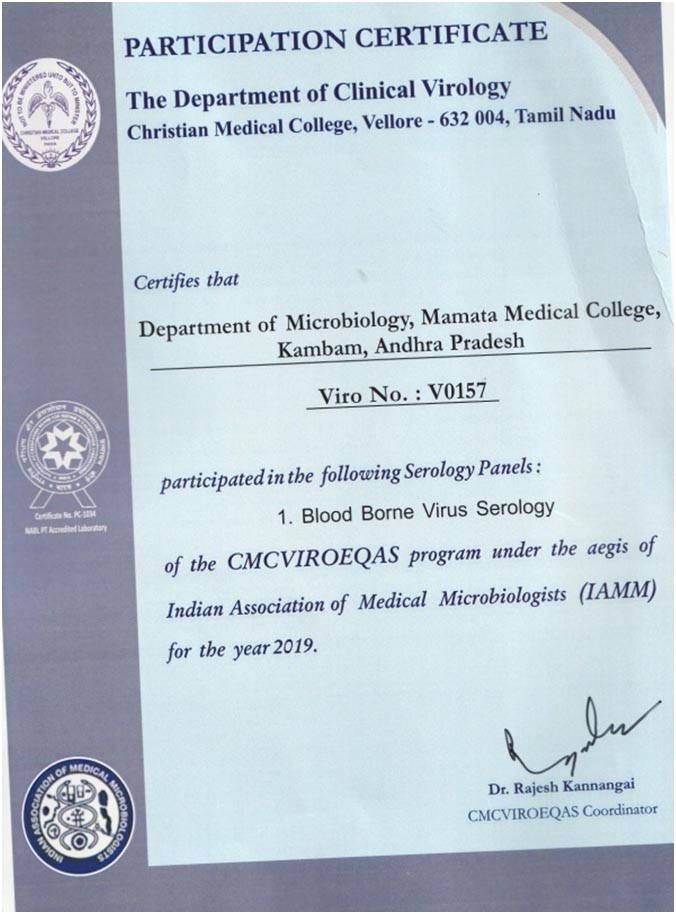 Real Time-PCR Laboratory: It is with great pride and pleasure that we announce that National Accreditation Board for Testing and Calibration Laboratories (NABL) has accredited the Molecular Laboratory of Mamata Medical College for testing of SARS-CoV-2 virus and HIV. Approval from the Indian Council of Medical Research (ICMR) has also been received and the laboratory has started testing patients suspected of COVID 19 since 12th September 2020.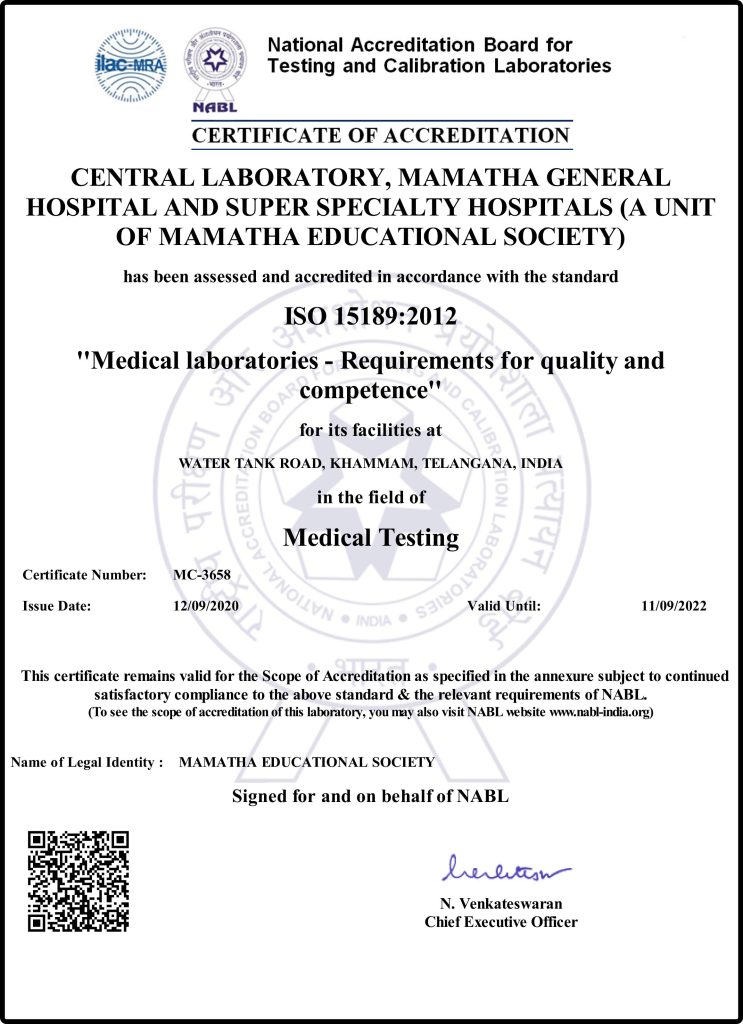 Biochemistry: For attainment of quality service in Clinical laboratory we participate both in Internal and External quality control.
IQC programme of mindray and biorad laboratories, USA.
EQC programme of External Quality Assurance Scheme ( EQAS) of ACBI / CMC, Vellore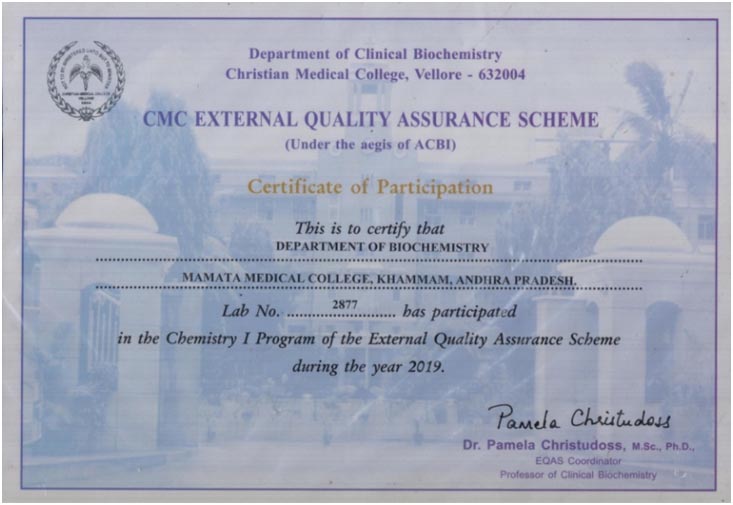 Pathology: The department of pathology, actively participating in ISHTM AIIMS External Quality assurance programme organized by department of hematology , AIIMS, New Delhi since 2017. Every quarterly we receive blood samples from them and our results are very well correlating with their results. We are maintaining the quality of the results in the lab in patient satisfactory.