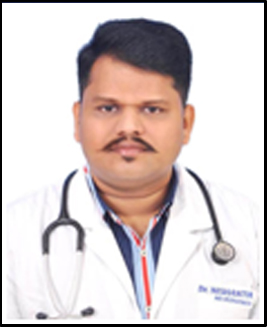 Dr Nishanth Naik Banoth
Assistant Professor of Paediatrics
Email: banothn7@gmail.com
Current Academic Role & Responsibilities
Conducting Undergraduate (MBBS) theory & practical class.
Postgraduate (MD) bedside clinics.
Involved in PG-Activity of the Department.
Involved in medical camp of the department
Current academic role and responsibilities.
Areas of Research & Expertise
Pursuing certificate course in Neonatology.
Awards & Achievements
1st Prize in Dr.I.S.RAO Quiz organized in Niloufer hospital by NNF Telangana State Chapter on 27th November 2019 at Lakdikapul, Hyderabad.
2nd Prize / Runner up in Dr.Y.C.Mathur Quiz conducted at TS-PEDICON 2019 Karimnagar on 1st December 2019.
2nd Prize /Runner up in13th IAP Pediatric Post-Graduate Quiz in Divisional round held at APOLLO HOSPITAL, Jubilee hills- Hyderabad on 5th September 2019.
Professional Affiliations
IAP membership & IMA membership – Mahabubabad distic branch.
Publications
Presented Paper on DKA ( Diabetic Ketoacidosis) in TS-PEDICON 2019 in Karimnagar on 30th November 2019.
Presented Poster on ADRENOLEKODYSTROPHY in TS-PEDICON 2019 in Karimnagar on 30th

November 2019.