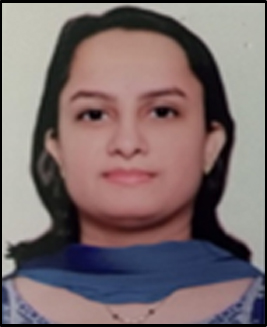 Dr Maslekar Sanjivani Deepak
Associate Professor of Paediatrics
Email: sanjivanimaslekar@gmail.com
Current Academic Role & Responsibilities
Conducting Undergraduate & postgraduate Students clinics / bedside teaching.
Conducting internal assessment Exams for UG & PG.
Guidance for PG students in Research work and thesis submission.
Conducting IAP UG quiz yearly IAP (Indian Academy of paediatrics) undergraduate quiz for paediatrics.
Areas of Research & Expertise
PICU & NICU Emergency management (NALS & PALS course).
Adolescent Pediatrics Practice.
Parental Counseling.
Pediatrics Endocrinology
Awards & Achievements
Best poster presentation award, at Ahemadnagar, Maharashtra at regional conference of Pediatrics in 2013. Topic: "Glanzmann's Thrombasthenia – a rare coagulation disorder".
First prize best paper award at state level conference of pediatrics (Maha- Pedicon) 2014 at Nagpur, Maharashtra. Topic: "Belief and Misbeliefs regarding breast feeding".
Best paper award at regional conf. At latur, Maharashtra, 2014. Topic:"Beliefs and Misbeliefs Regarding Breast feeding".
Outstanding postgraduate achievement award in2015 (PG), at student latur, Maharashtra.
Professional Affiliations
Life member of the IAP(Indian Academy of Pediatrics)
Life member of IMA.
Worked as Article reviewer for IJPR journal (pediatric review : International journal of pediatric research)
Publications
Sanjivani Deepak Maslekar , Dr.Somaiah G, Dr.Nagapraveen veerapu. Bubble CPAP (continuous positive  airway pressure ) therapy as a primary mode of Respiratory support in preterm newborns with mild to moderate respiratory distress syndrome. International Journal of Pediatric Research. March – April 2021;8 Number 2 .      
Maslekar Sanjivani Deepak, SekharRC,Vijayalakshm B. Study of partial seizures in children with respect to EEG and CT scan. International Journal of Pediatric Research: 2016; 3(5):346-350.
Bhattad S, MaslekarS, Bhattad SH, Kendre V. Beliefs and Misbeliefs Regarding Breast Feeding.Pediatric education and Research: 2015 April;3(2): 57.
Kendre V, Bhattad S, Maslekar S. Polycythemia vera a rare Hematological disorder in 6years old female child.