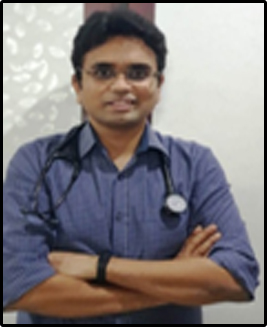 Dr Harsha Teja Perla
Associate Professor of Cardiology
Email: harsha.tej@gmail.com
Current Academic Role & Responsibilities
Associate Professor and Interventional Cardiologist.
Areas of Research & Expertise
Preventive Cardiology, Interventional cardiology, Structural heart disease
Awards & Achievements
T.N.M.G.R University Gold medal (DM Cardio-2018)
Best care Presented of CSI – NIC 2019
Best care Presented of CSI – Telangana -2022
Publications
Cardiomyopathies add up? – Harsha Teja Perla. Indian Heart J. Sep – Oct 2021.
Demographic and Laboratory characteristics variation among snake envenomation patient to- An institutional study H.T. Perla, samuel GH. Institutional J of Cardiology research. 2021;3(1):01-08.
Evaluation of Cardiac engrome levels and hematological progiles in chikun gunya patients, H.T Perla. Navyyaslk, Institutional. j. cardiology scienvces. 2020;2(1,):19 – 22.