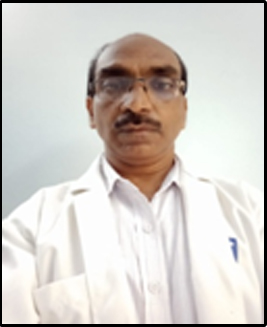 Dr Gadiplli Somaiah
Professor of Paediatrics
Email: somaiahgadipalli@gmail.com
Current Academic Role & Responsibilities
Conducting Undergraduate & postgraduate Students clinics / bedside teaching.
Conducting internal assessment Exams for UG & PG.
Guidance for PG students in Research work and thesis submission.
Conducting IAP UG quiz yearly IAP (Indian Academy of paediatrics) undergraduate quiz for paediatrics.
Areas of Research & Expertise
Child Nutrition.
School children health
Awards & Achievements
Life member of Indian Academy of paediatrics
President IAP khammam branch-2014 to 2015
Conferences attend of TS pedicon-2019 participated
Publications
Sanjivani Deepak Maslekar, Somaiah G, Nagapraveen Veerapu, Bubble CPAP ( continuous positive  airway pressure ) therapy as a primary mode of Respiratory support in preterm newborns with mild to moderate respiratory distress syndrome. International Journal of Pediatric Research. March – April 2021; 8 Number 2.