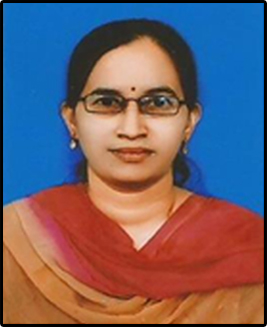 Dr Y Sushma                                                                 
Professor &HOD of Pathology
Email: yalavarthisushma@yahoo.co.in
Current Academic role & Responsibilities
Guiding post graduates and undergraduates (MBBS) in their research projects.
Administrative responsibilities in the department.
Involved in diagnostic work in histopathology., cytology and hematology, clinical pathology.
Conducting theory and practicals sessions for MBBS, BDS and Nursing students as per NMC guidelines.
Areas of research & Expertise
Histopathology
Cytology.
Hematology
Awards & Achievements
Awarded young scientist award in Mamata Medical College in 2018.
Awarded Ganne Subbalaxmi award for best case report in state conference IAPM-AP chapter 2008, held at Kakinada .
Underwent training in Advanced course medical education in 2019 Belgavi.
Professional Affiliations
Life member of the Indian Association of pathologists and Microbiologists.
Life member of Indian Medical Association, Khammam
Publications
Y. Sushma, Dr. Vijay Kurmar, Dr. Rukmangadha.Correlation of P53 Status with Histological Grading of Urinary Bladder Transitional Cell Carcinoma. Scholars Journal of Applied Medical Sciences/ 2017/ Vol-5 / Issue-1 D.
Sushma Yalavarthi, Nirvana Rasaily Halder, Aparna Pagidikalava. Utility of platelet indices in diagnosing the underlying cause of thrombocytopenia due to accelerated platelet destruction. Annals of Pathology and Laboratory Medicine, Vol. 5, Issue 4, April, 2018.
Yalavarthi Sushma and Pagidikalava Aparna. Cytomorphological Study of choroid plexus neoplasms and its Correlation with histopathology. Pamu Pramod kumar, Annals of Pathology and Laboratory Medicine, Vol. 5, Issue 7, July, 2018.
Sushma Yalavarthi, Ramamurti Tanikella, Shailaja Prabhala, Umasankar Tallam.  Histopathological and cytological correlation of tumors of Breast. Medical Journal of Dr,DY Patil University ,vol7/issue3/May-June 2014.
Sushma Yalavarthi, Pramod Kumar Pamu, Mallesh Thoondla, Saloni Gupta. Metachronous malignancies in head and neck region. Indian Journal of pathology and microbiology,57(2), April-June 2014.
Umasankar T, Sushma Yalavarthi , Ramamurti.T, Ashwini Jajee. Study of morphological changes of placenta in high risk pregnancies. Journal of science, 2016; 6(3) :168-175
Sushma Yalavarthi, Satya Narayana V, Ramamurti T, Supriya M. Intermuscular  hydatid cyst in the thigh :An unusual Presentation. Medical Journal of Dr. D.Y. Patil University, 2013;6 (2):191-3.
 Sushma Yalavarthi, Jadhav VA, Kumar SS, Pavani M. Mayer–Rokitansky–Kuster–Hauser syndrome: Syndrome of Mullerian agenesis – A report of two cases. Med J DY Patil Univ 2017;10:207-10.
Sushma Yalavarthi, Pandu Rangarao S., Susheel Kumar S., Supriya M. Diagnostic dilemma in a malignant cutaneous adnexal tumor. Indian journal of pathology and microbiology: 56(3), july-september 2013.
Sushma Yalavarthi*, Vijay Kumar P, Vamsi Krishna R, Uma Shankar T. Correlation of ADA levels in lymphocytic and neutrophilic effusions of body cavities. Journal of Science 2013; Vol 3 (2): 96-100.